From Editor:Thanks for the lovely reviews from Andriod Center, which has helped us to select best Yeelight products in 2018. Let's take a closer look. Have you already decorate your home with the best Yeelight products in 2018?
Best Yeelight Products in 2018
Yeelight offers a great selection of smart lighting options.
There are plenty of options available if you're in the market for smart lighting solutions, and Yeelight is a brand that rose to prominence in recent years. Yeelight is a Chinese lighting brand that counts Xiaomi as one of its main investors, and its products are sold as part of the Mi Ecosystem label in China. Much like Xiaomi, Yeelight is notable for rolling out products that offer great value for money.
Starting this year, Yeelight starting selling its more popular products directly on Amazon.com, making it easy for consumers in the U.S. to pick up its wares.
Yeelight LED bulb
The Yeelight LED bulb is an affordable alternative to the Hue ecosystem. Like Hue, the Yeelight smart LED bulb is available in both white and color options, and they're also rated as a 60W equivalent. The main difference is that unlike Hue, the Yeelight bulbs don't need a dedicated bridge to work, which lowers the barrier to entry.
For instance, you can get started with the Yeelight LED bulb by just picking up one unit and seeing how it functions in your home environment, all for just $29. The bulb has a color temperature between 1700K to 6500K, and you can set up lighting effects, add a schedule, adjust the intensity of the lights, and more from the Yeelight app.
Like all smart bulbs in the market today, the Yeelight LED bulb is compatible with both Amazon Alexa and Google Assistant, and you'll be able to launch routines and set up schedules with your voice. There's also the option to configure actions via IFTTT.
Yeelight LED Lightstrip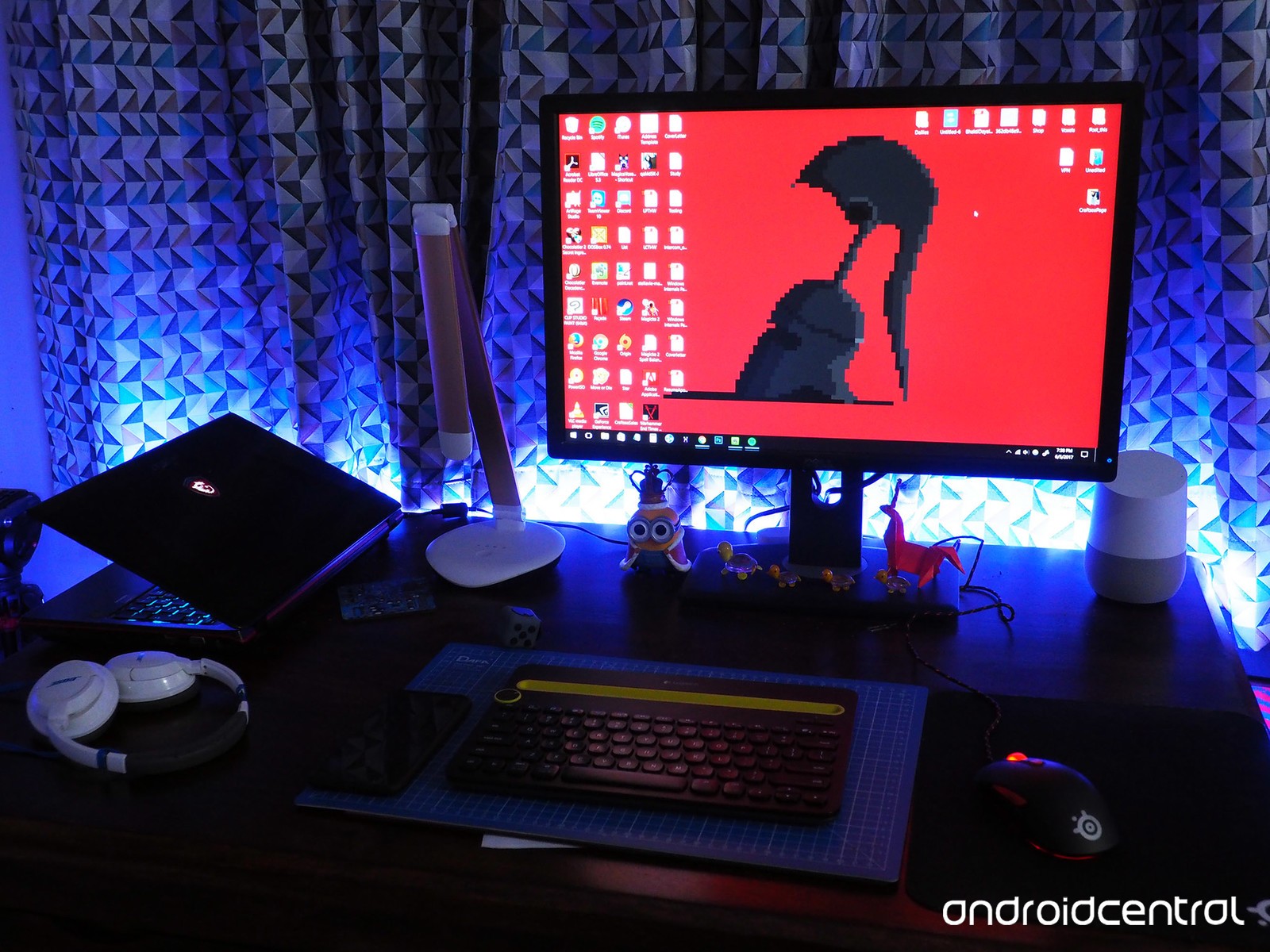 Like the LED bulb, Yeelight's light strip is similar in functionality to the Hue Lightstrip. The two-meter light strip has 3M adhesive at the back, and you can bend it or cut it to length as needed. It also connects over Wi-Fi to your home network, and is controllable with the Yeelight app.
It also comes with a one-button control that lets you toggle the light strip on or off and switch between various colors. The light strip is currently sold out at Amazon, so you'll have to pick it up from GearBest for $29.99.
Yeelight Ambient Light
The Ambient Light is the latest addition to Yeelight's catalog. It essentially mimics a candlelight — it has a fixed color temperature of 1800K. There's a control ring that lets you adjust the intensity of the light by rotating the glass housing clockwise or counterclockwise.
The candela features Bluetooth mesh tech, so you can set up several lights and control the lighting options by changing the setting on one unit. There's even a flicker mode that recreates a similar effect you get with candlelights.
There's a 2100mAh battery that provides up to six hours of continuous battery life, and the candela is portable enough that you can carry it with you. As the candela works over Bluetooth, you won't be able to control it with Alexa or Assistant, but the control ring on the glass housing comes in handy for toggling the light on or off.
Yeelight Bedside Lamp
Yeelight's bedside lamp is packed with 14 LEDs that offer a uniform light. The lamp has 16 million colors, and comes with a control surface at the top that lets you toggle the light and switch colors.
You can set up a wake timer from the Yeelight app that will create a visual alarm of sorts: the lamp automatically switches on in the morning, and slowly increases the intensity of the light until your specified alarm time kicks in. Unlike the candela, the bedside lamp needs to be plugged into a power outlet to work.